PANDORA : MPEG2-TS streams Analyzer
The best HbbTV analyser tool available
In addition to different content generation solutions, Vizion'R offers an MPEG2 TS Stream analysis tool which provides unique capabilities for analysis and presentation to inspect in detail the stream at all levels (audio, video, HbbTV, MPEG4-BIFS).
Try Pandora MPEG2-Analyser for free
You can freely test Pandora during a few days by filling this form, an email will be sent immediatly with a link to download Pandora for Windows, Mac OS or Unix.
Some unique features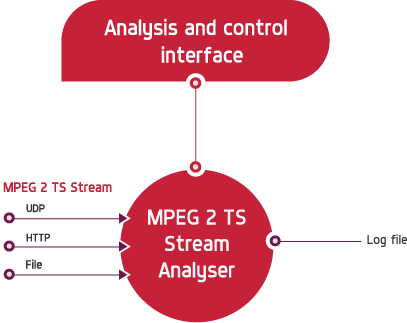 Automatic reporting functionality (error and quality)
Compatible with Apple HTTP Streaming
Advanced decoding content HbbTV, T-DMB/BIFS
This tool allows for example to display the characteristics of an MPEG2-TS by listing the parameters of all internal streams (average flow rate, flow rate, flow type ..) and present the results as clear and accurate diagrams.
With the Pandora analysis solution, you can optimize your encoders and take maximum advantage of the TS stream in term of quality as well as performance.
Pandora User Manual can be downloaded here: Pandora User Manual.